Be an innovator. Be a game-changer. Be yourself, with Geotab.
Maintaining our unique culture is vital - after all, staff that enjoy their work environment are motivated to reach their full potential.
Geotab life
Geotabbers innovate and seek creative ways to continuously improve. Using leading technology, we are advancing the world of telematics. We love being ahead of the curve!
We put our Geotabbers first. Continuous learning is fundamental to Geotab's success. Challenging the status quo and continually seeking creative and effective ideas is what we do best. Do you want to get that Microsoft Certification, learn how to be a project manager or take another technical course? We'll support you!
Perks at Geotab
Medical & dental benefits
With us, you're covered. We provide competitive medical and health benefits to eligible Geotabbers.
Retirement savings
Whether you call it a 401K, RRSP or a pension, we help our staff save up for their adventures after Geotab.
Work from Home
Do the work you love, remotely and safely with Geotab.
Flex work arrangements
We offer flex work schedule to help accommodate employees needs.
Baby bonus
Parents will receive a generous financial bonus for the arrival of their new baby, or the adoption of a child.
EV program
Geotab cares about the environment — We offer an incentive to purchase or lease an electric vehicle.
Learning
We encourage employee learning and growth by providing online training and webinars.
Build your office
Geotab provides reimbursement for select items to enhance your home office setup.
Our values
Collaborate and strive for transparency
---
We take pride in working hard
and playing hard!
#GeotabLife
You may be wondering, do I have what it takes to be a Geotabber? Use this checklist to find out.
Attend company-sponsored meals

Dress up for themed attire days (jersey day, Halloween costumes, and Hawaiian shirts to name a few)

Celebrate Geotabber's birthdays with desserts

Be camera-ready and be prepared to see pictures of yourself in the slideshow at our annual holiday party
---
Our staff is family
We laugh together, learn together and grow together.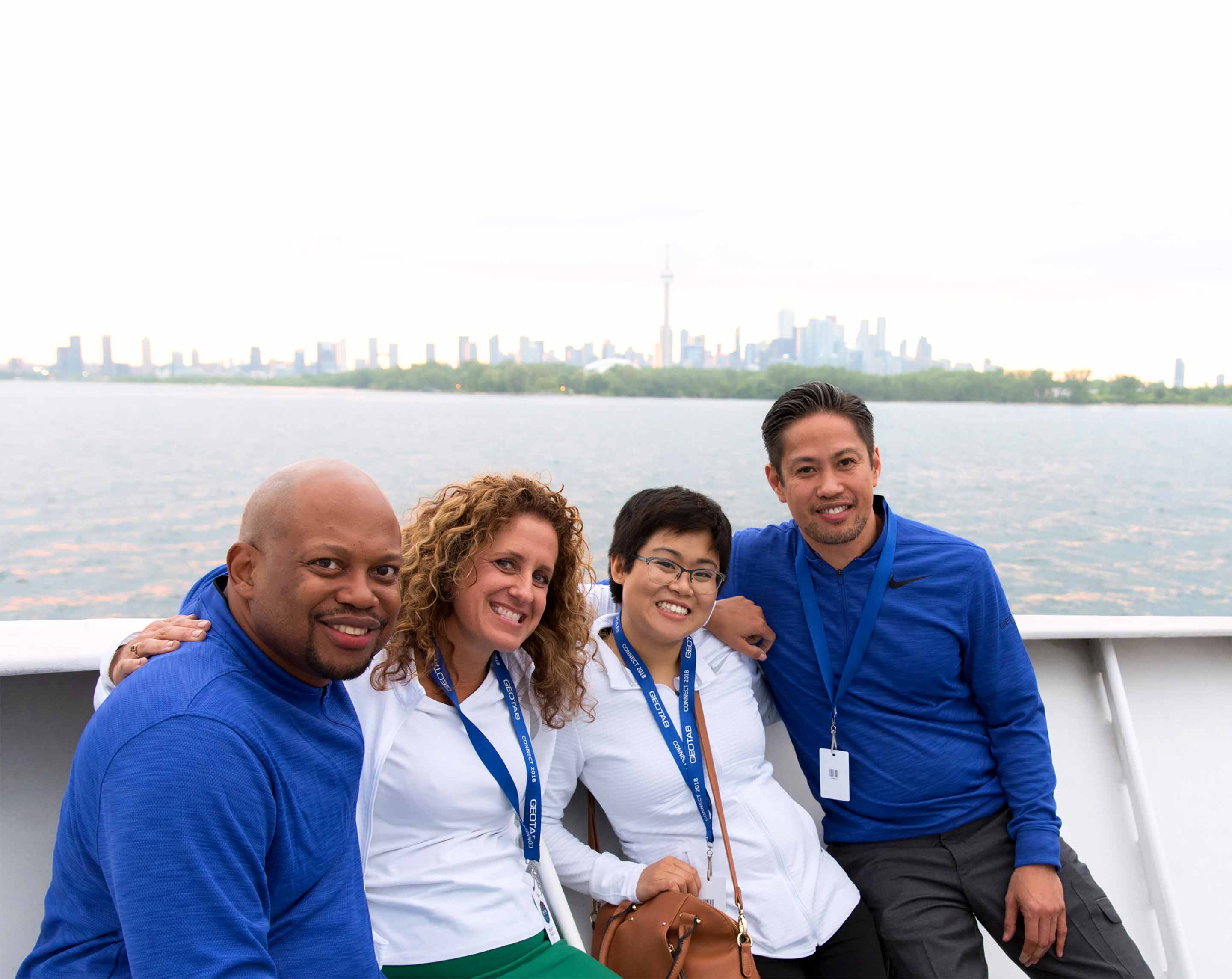 Geotab Cares
Geotab is, and always has been, committed to doing the right thing. Geotab Cares about the community and actively commits time and resources to support local initiatives such as mentorship programs, safety campaigns, environmental sustainability and a variety of charities across the globe. Click here to learn more about the Geotab CSR program.
---
What's your passion?
This is your time to shine and show us if you have what it takes!
Staying active rejuvenates passion, builds co-worker relationships and helps one relax after a high-tech day. Beginner, intermediate, or semi-pro — all athletes are welcome! Geotab contributes to funding staff sports teams such as:
---
See what's happening @InsideGeotab